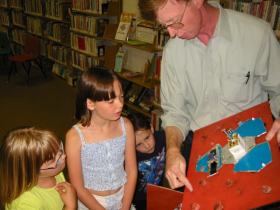 Bob's interest in aerospace was sparked by his father's 30 year career at NASA's Armstrong Flight Research Center located at Edwards Air Force Base in California. It was a time of historic breakthroughs in modern aviation. Programs developed during that time included the lifting body projects and the renowned X-15. All of which led to the design of the Space Shuttle.
Later, Bob began to see the educational possibilities of teaching young people about the history of aerospace while working as a tour guide at the Smithsonian Institution in Washington D.C. He later became a contributing writer and photographer for Countdown Magazine, a national aerospace publication dedicated to the activities of the Space Shuttle.
Bob was co-emcee for the first and second Aerospace Walk of Honor ceremony in Lancaster, California. The ceremonies inducted such notable aerospace figures as Neil Armstrong and Chuck Yeager.
Over the years, Bob has narrated a variety of video histories dedicated to flight programs at NASA's Armstrong Flight Research Facility at Edwards. Subjects have included the X-33, TU-144, X-36, and the solar powered Pathfinder and Centurion aircraft. The videos have been distributed to companies and government entities throughout the United States.
Bob created the Antelope Valley "Air & Space Expo", a non-profit event bringing many leading aerospace entities such as NASA, Jet Propulsion Laboratory, United States Air Force, Boeing and Northrop Grumman to participate side-by-side with area schools and students.
Captain Bob's Rockets and Robots is a distillation of all of these efforts and experiences. Presented to over 250,000 students, these STEM assemblies are presented to schools and libraries with the goal of instilling the fun of science, flight and our explorations in space to tomorrow's pioneers...our children.
For more information and scheduling Contact Bob Redman